Writing
My first full length play Killing Time – a dark comedy exploring legacy, inspiration, music and the right to die – was nominated for Best New Play in the 2017 Off West End Awards.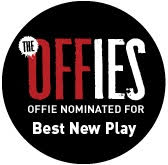 "The script and characterisation are phenomenal - a veritable powerhouse of talent."
★★★★ The Upcoming
This year Killing Time was invited to be part of Brits Off Broadway and, in association with the Stephen Joseph Theatre, enjoyed a fantastic months run @59e59 NYC in spring 2019.
Work in progress
I have been writing Oracle on and off for the past three years - another surreal dark comedy for an ensemble cast exploring revolution, big tech, fake news and ways to overcome political apathy.
As a writer who enjoys multi-disciplinary work, I want to continue developing Oracle in collaboration with a technologist and our Associate Movement Director, Christian From through R&D. As part of Word Mills productions, we are working towards creating an immersive theatre experience with an accompanying app, handheld and static projection, soundscape and ensemble physical movement.
I am currently also creating a solo show Hero - a visceral and ridiculous romp through masculinity, feminism and one woman's nightmare - as a deadline looms, she is forced to confront the truth about her less than authentic life, her 90's action film addiction, and what it really means to be a hero.
It's early days on this play, but using a mix of improv devising techniques, physical theatre and filmic research, I am certainly having a riot so far…
I write monologues / duologues and have begun to experiment in writing for puppetry.
I also enjoy regular experiments in audio and would like to write for radio and podcast, as well as film and television in the future.
I love collaborations of many kinds, so if you need words, another mind to bounce off or are just looking for constructive feedback on your work, please do get in touch.