Writing
My first full length play Killing Time – a dark comedy exploring legacy, inspiration, music and the right to die – was nominated for Best New Play in the 2017 Off West End Awards.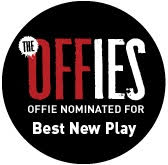 "The script and characterisation are phenomenal - a veritable powerhouse of talent."
★★★★ The Upcoming
Killing Time was later invited to be part of BBrits Off Broadway and we enjoyed a fantastic month's run @59e59 NYC in spring 2019.
In development
The Lion Who Roared All Night - Lyrical short story about a lion who wakes up the whole ocean by roaring.

Poem/book/show - Pitched as an illustrated Children's book, and now in development with Frank and Wild Productions as a multidisciplinary show involving puppetry, live music, interactive storytelling, gentle humour and live sound mixing.

Oracle - Surreal dark comedy for an ensemble cast exploring political apathy, protest, pointless exercise and an app which causes revolutions.

Theatre/site specific - An immersive theatre experience with an accompanying app, handheld and static projection, soundscape and ensemble physical movement based on cross fit and different forms of protest.

God and The Bird - Audio project about faith, survival and Ninja Warrior

Audio - An ongoing collaboration with Word Mills with Brigit Forsyth and others narrating, plus the brilliant director and sound designer Carl Prekopp

Dreamers - Estranged sisters meet up for a surreal road trip with a body in the boot.

Short Film - Currently rewriting for audio with aim of site specific recording.

SHERO - Identity Crisis for the Modern Gendered Human - A Visceral yet ridiculous romp through masculinity, feminism and what happens when your heroes are fictional male action adventure characters from the 1990s.

Multidisciplinary Solo show - Was in development as part of Shrill Voices residency programme at Rosemary Branch Theatre London pre pandemic, using a mix of improv devising techniques, physical theatre and filmic research.
Other projects
I write monologues / duologues, poems, prose and enjoy mixed media collaborations of all kinds.
I am always open to a conversation on interesting ideas… so if you need words, or are just looking for some constructive feedback, please drop me a line at me@zoemills.co.uk